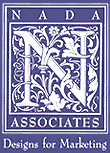 | | |
| --- | --- |
| Nada Napoletan Rutka, ASID, CMG, is founder and principal of Nada Associates, a Pittsburgh area based color, design and marketing consulting firm. With over thirty years of experience in the areas of design, marketing, and product development, her firm provides clients with a wide variety of fresh and innovative solutions to their design and marketing challenges. Nada has developed an exclusive Strategic Design Program which focuses the design direction of products to specific markets for more profitable results. Her team member approach assures that solutions are directed by the client's goals, providing for an integrated and highly successful result. | |
Nada Associates provides services for contract, consumer and interior product companies in a multitude of disciplines, including development of:
Strategic Design Programs
Product design development
Product color line development
Color and Trend forecasting
Product and market analysis
Clients have included RHC Holdings Inc.; Proctor& Gamble; Lutron Electronics Inc.; Comtec Partitions; Philips Electronics North America; The Coleman Company; Color Systems; Melded Fabrics Inc.; Builder's Edge; Waverly Home Fashions; Hunter Douglas Window Fashions, Inc. Tyco Plastics and Dewey Color System. The firm serves both domestic and international clients. Nada has been a member of Color Marketing Group, an international not-for-profit association of color and design professionals, since 1980. In 1993-94, she served as association President, after having previously served in a multitude of leadership positions with the association. She currently serves on its President's Council and on its Policy & Business Practices Committee. In 1998 was honored with prestigious International ColorLink Award, in 2004 President's Award and in 2008 CMG's Lifetime Achievement Award.
Nada has authored numerous articles in the areas of color, design and marketing. She has also received many accolades for excellence in product design and development over the years, including three awards in 1994 from the Window Covering Manufacturer's Association for product innovation and more recently 2002 IDEA Consumer Products Bronze winner, for Coleman's Back Home lighting (NA provided finish color development).
Prior to founding Nada Associates in 1989, Nada held a number of positions with increasing levels of responsibility within the interior design and window treatment industry. Those include Vice President of both Marketing & Design and Product & Market Development for Verosol U.S.A. Inc. She also held the position of Vice President of Product Design for BW U.S.A. Inc.
Nada is well qualified to understand that Color Design is the business of Color. Executive level experience in both marketing and design provides her with the unique ability to understand your needs, your product and market goals, and to translate them into highly saleable product colors and design for you.
If you manufacture or market a product, click here if you are interested in an opportunity to win one day of Nada's consulting services, free!
For a comprehensive view of Nada Associates process please click on our e-Brochure tab or call Nada directly at 724-746-1646.