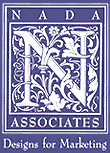 Contest Terms and Conditions
As with every sweepstakes or contests you enter, it has to have rules to abide by, these are the ones for Nada Associates.
1. Introduction and Definitions: Nada Associates ("Nada") is the operator of this contest. Nada may at any time with or without cause and without notice or liability to any participant, change, eliminate, or restrict the use of all or any portion of Contest including but not limited to a limitation on the time of Contest availability or the individuals who are permitted to enter. Principals and employees of Nada Associates its affiliates, subsidiaries, contractors, advertising and promotion agencies, and its contest processors, their immediate families and Contest Supervisors are not eligible. All federal, state and local laws apply. No purchase is necessary to enter. Only one entry per person. Duplicate or multiple entries will not be accepted. Only one entry shall be submitted per e-mail address. Participants must fill out the Contest Entry Form completely. Nada is not responsible for late, lost, misdirected, incomplete, ineligible, or unintelligible entries; or for printing or electronic errors in any advertisement, posting, or rules.
2. Eligibility: All entries become the sole and exclusive property of Nada. All personal information provided by you must be accurate to the best of your knowledge at the time of providing the information. Intentionally providing inaccurate or misleading information will constitute a violation of these Terms and Conditions. Determination of the Winner and of eligibility shall be in the sole discretion of Nada. Any such determination shall be final.
3. Notification and Acceptance: Nada shall select and contact the winning participant (the "Winner") during regular business hours within twenty days of receipt. If Nada is unable to contact Winner after reasonable attempts, Nada, in its sole discretion, may terminate the contest or select another winner. Prize does not include any travel or other administrative expenses incurred by Nada in providing this free service, which shall be borne by the Winner.
4. DISCLAIMER OF WARRANTIES: CONTEST IS PROVIDED TO PARTICIPANTS ON AN "AS IS" BASIS, AND NO WARRANTIES, INCLUDING NOT LIMITED TO THE WARRANTY OF MERCHANTABILITY OR FITNESS FOR A PARTICULAR PURPOSE, ARE MADE BY NADA REGARDING CONTEST OR ANY SERVICES OR PRODUCTS PROVIDED THROUGH OR IN CONNECTION WITH A PARTICIPANT'S USE OF CONTEST.
5. LIMITATIONS OF LIABILITIES: ANY LIABILITY OF NADA ITS PRINCIPALS, EMPLOYEES, AGENTS OR CONTRACTORS, WHETHER FOR BREACH OF CONTRACT, TORTUOUS BEHAVIOR, NEGLIGENCE, OR UNDER ANY OTHER CAUSE OF ACTION, INCLUDING WITHOUT LIMITATION ANY LIABILITY FOR DAMAGES CAUSED OR ALLEGEDLY CAUSED BY ANY FAILURE OR PERFORMANCE, ERROR, OMISSION, INTERRUPTION, DELETION, DEFECT, DELAY IN OPERATION OR TRANSMISSION, COMPUTER VIRUS, COMMUNICATIONS LINE FAILURE, BREAKDOWN OF EQUIPMENT, SOFTWARE ERROR, UNAUTHORIZED ACCESS TO, OR THEFT, DESTRUCTION, ALTERATION, OR USE OF, RECORDS, SHALL BE STRICTLY LIMITED TO THE LESSER OF $10 OR AN AMOUNT EQUAL TO $.01 PER CONTEST ENTRY.
The sole and only right with respect to dissatisfaction with any policies, guidelines, prizes or practices of Nada in the operation or administration of the contest is for such dissatisfied participant to terminate participation.
6. Termination: Either you or Nada may terminate your participation in Contest at any time and without cause. This Contest shall be void where prohibited by law. At any time, Nada may terminate or temporarily suspend any Participant's access to all or any part of Nada's services or material, including Contest prizes, without notice, for conduct that Nada believes is a violation of the Terms and Conditions, or any policies or guidelines posted by Nada, or for other conduct which Nada, in its sole discretion believes to be harmful to Nada, or other Participants. Once a Participant's application has been canceled for cause under this paragraph, Nada reserves the right to deny re-registration of that Participant.
7. Privacy: Personally identifiable information that you provide to Nada during registration or in answering questions in the Contest will be used internally by Nada, but Nada will not rent, sell, barter or give away the information to any outside party.
8. These Terms and Conditions and all policies and guidelines posted on Contest, which you accept by registering as a participant, contain the entire agreement ("Agreement") between you and Nada regarding all aspects of your entry into Contest, and may be amended at any time by the posting of revisions on Contest. The Agreement and all aspects of this contest shall be governed by and interpreted under the laws of the Commonwealth of Pennsylvania.